News
OnePlus 12, OPPO Find X7, and Realme GT 5 Coming Soon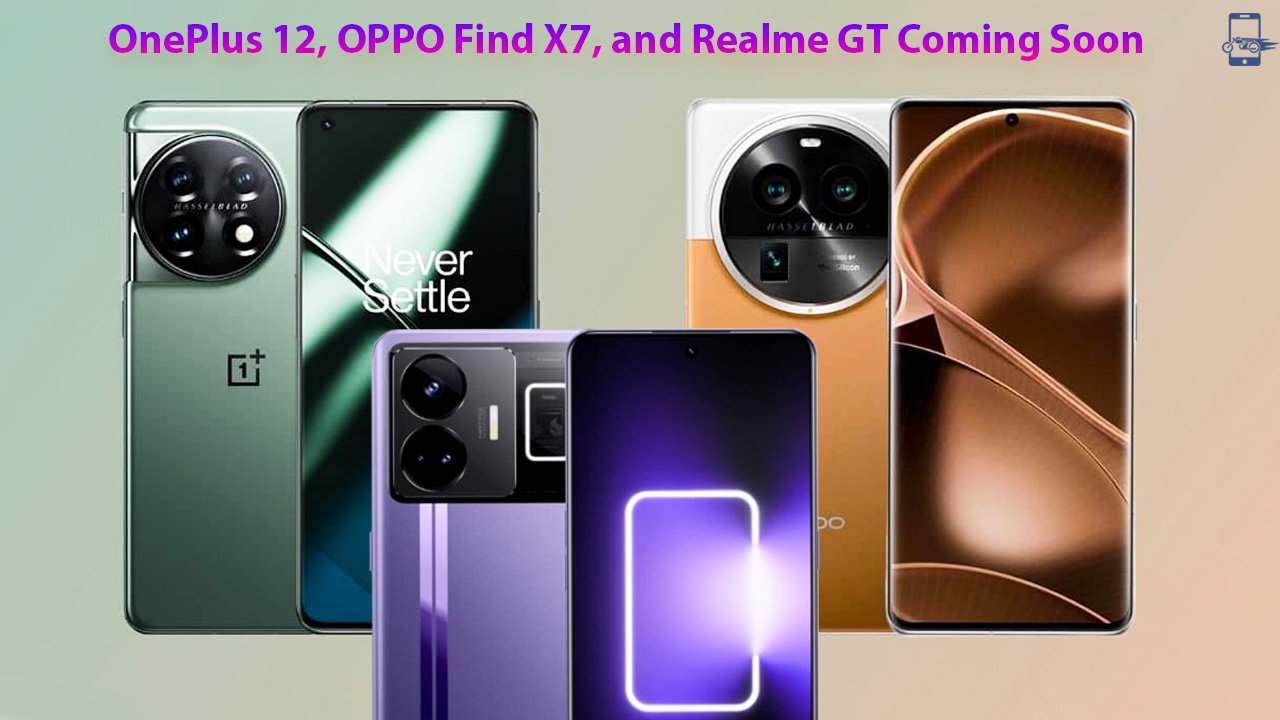 Key details of the OnePlus 12, OPPO Find X7, and Realme GT have been Revealed:
A well-known Weibo tipster named Digital Chat Station has shared vital details about the eagerly awaited smartphones OnePlus 12, OPPO Find X7, and Realme GT. These flagship gadgets are anticipated to go on sale in the next months and are said to be equipped with Qualcomm's Snapdragon 8 Gen 3 CPU. Let's explore the fascinating aspects that have thus far come to light.
The Next Wave of Flagship Phones Will Include the Snapdragon 8 Gen 3:
The expectation in the IT community is at an all-time high as Qualcomm gets ready to introduce its Snapdragon 8 Gen 3 processor in October. Leading Chinese smartphone firms are prepared to introduce their cutting-edge products powered by this ground-breaking chipset with the imminent release. The OnePlus 12, OPPO Find X7, and Realme GT are three of the phones that are most highly anticipated. We now get a look at their main features thanks to Digital Chat Station.
High resolution and dimming support for the display:
The Find X7 (or X7 Pro), OnePlus 12, and Realme GT 5 are anticipated to have OLED displays that enable 2K resolution and high-frequency dimming, according to the source. Even though specifics about the display sizes and supported refresh rates have not yet been made public. It is obvious that customers may anticipate these devices to provide them with amazing graphics and immersive viewing experiences.
Design and location of punch holes:
The OnePlus 12 will have a center punch-hole display rather than the conventional corner punch-hole screen found in its predecessor, the OnePlus 11 5G, as Digital Chat Station revealed in a startling disclosure. The overall user experience will likely be improved by this small design modification. Which will likely result in a front panel that is more symmetrical and aesthetically beautiful.
Powerhouses for wired and wireless charging:
Fast charging capabilities are anticipated to be supported by top smartphones with Snapdragon 8 Gen 3 processors. The OnePlus 12 will be the first OnePlus flagship handset to enable 50W wireless charging, which will excite wireless charging enthusiasts. The OnePlus 12 may astound consumers with its 150W cable charging capacity. While the Find X7 is said to provide 100W wired charging. There may be 150W and 240W charging options for the Realme GT 5, which is well-known for its creativity. The way we power our devices will surely change as a result of these charging speeds.
Zoom on the periscope and camera capabilities:
The OnePlus 12's rear camera layout was revealed via a previous leak, despite the tipster's lack of specific details on the camera settings. It is anticipated to have a 50-megapixel primary camera from Sony with optical image stabilization (OIS). A 50-megapixel ultra-wide lens, and a 64-megapixel periscope telephoto camera from OmniVision with OIS. All three phones include periscope zoom cameras, which promise amazing zooming powers and high-quality pictures.
Dates of Release: Please note this date
The OnePlus 12 is anticipated to go on sale in November or December this year for enthusiasts anxious to get their hands on these gadgets. The Realme GT 5 and Find X7 series are anticipated to debut in the first quarter of 2024, respectively. Follow these smartphone makers for official announcements and fascinating updates.
Conclusion:
There has been a lot of talk about the OnePlus 12, OPPO Find X7, and Realme GT among tech lovers and smartphone connoisseurs worldwide. These handsets are positioned to revolutionize the smartphone landscape thanks to their excellent features. And the powerful Snapdragon 8 Gen 3 engine at their heart. They offer to give a premium user experience with features like high-resolution OLED screens. Extremely quick charging, and cutting-edge camera setups. Watch out for these prospective flagships since they are predicted to cause a stir in the market soon.
Thank you so much for being with the BDPrice.com.bd family.
Our Facebook page BD Price.