In this busy modern world, a reliable alarm clock is essential for starting the day. Xiaomi Cute Expression Alarm Clock adds cuteness and functionality to your day. This digital LED alarm clock displays time and decorates your nightstand. This article will examine this alarm clock's features that make it fun to use in the morning.
Sweet Face Expression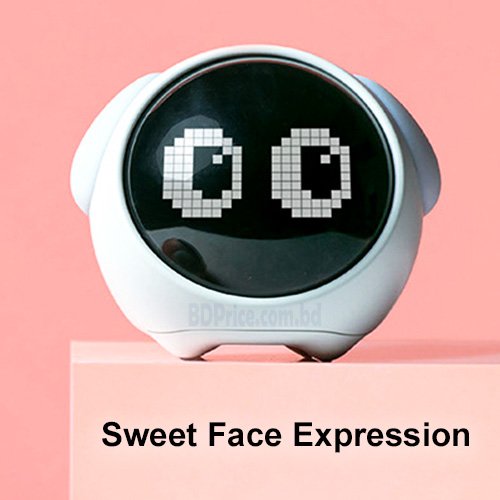 Xiaomi's alarm clock is unique. This clock has an adorable, moving face that changes with the day. This charming and humorous clock will add a morning smile or nighttime yawn to your bedroom. That adorable expression will make you smile every morning, kid or adult.
Voice-controlled lights
Voice control turns this alarm clock's LED lights on and off. Adjust the clock's illumination with a voice command. The Xiaomi alarm clock emits a warm, comforting evening light and a crisp, white morning light. The voice-activated alarm clock is useful for bedside use. No more searching for your phone in the dark.
Xiaomi is more than a cute voice-activated device. This alarm clock's many features make it a useful nightstand accessory:
The clock's thermometer lets you quickly check the room's temperature. Don't toss and turn in the morning trying to decide if you're too hot or cold to get up.
The alarm clock will wake you up at the right time, and you can snooze if you need to. For mornings you can't get out of bed, it has a snooze button.
You can remember important dates and deadlines using the clock's date and calendar display.
Voice Control: You can check the weather, play music, set alarms, and adjust the lights with your voice.
Your electronics will be charged and ready to go with the clock's micro USB port.
Specifications:
Materials: Silicone, Poly Carbonate, and ABS
Colors: Pink and White
Size of item: 10.5×11.5×9.3 cm
Charging Port: USB charging (Micro USB Port)
Battery: Built-in 1500mAh lithium battery
Charging time: 3–4 hours
Power rating: 2.5W
Minimum voltage: 5V
Standard Version:
The quantity of alarm clocks
Collections of alarm clocks. "DiDiDi" is the alarm tone.
Snooze feature: Available
Volume modification: Available
Sound control: Unavailable
Adjusting the brightness: Available
Display Expression: Unavailable
Display Temperature: Unavailable
New Version: (Upgrade Version)
The following number of alarm clock groups: 2 groups
Five (5) different types of alarm ringtones
Snooze feature: Available
Sound control: Available
Volume adjustment: Available
Adjusting the brightness: Available
Display Expression: Available
Display Temperature: Available
Simple, Compact Design
The alarm clock is compact and easy to use, making it ideal for travelers. It fits on a passenger's lap or a dorm nightstand. The intuitive design makes setting alarms and other settings easy for non-technical users.
It's more than a clock the Xiaomi Cute Expression Alarm Clock enhances your morning routine. Its cute animated faces, voice-controlled lights, and other useful features make it a great bedside companion. If you're a student or professional getting ready for class, this clock will brighten your mornings.
Xiaomi Cute Expression Alarm Clock Price in Bangladesh is 2,350 Taka.
Thank you so much for being with the BDPrice.com.bd family.
Our Facebook page BD Price.