News
Honor 90 Will Be Released To The World On July 6
Introducing the Honor 90, a Potent Flagship Smartphone
Honor is getting ready to publicly introduce its newest flagship phone, the Honor 90, in a widely anticipated move. Honor has scheduled its main launch event on July 6 in Paris, France, following its successful unveiling in China last month. This article will explore the fascinating features and technical details of the Honor 90 and give readers an idea of what to anticipate from this cutting-edge gadget.
The Honor 90 blends style and innovation, and it has a very attractive appearance to boot. Users may enjoy a fluid and immersive visual experience on the device's huge 6.7-inch OLED screen, which has an amazing 120 Hz refresh rate. The high-quality display guarantees vivid colors and clear details, making it perfect for surfing, gaming, and multimedia consumption.
Efficiency and Quickness:
The Honor 90's strong Snapdragon 7 Gen 1 CPU, which offers great performance and speed, is hidden behind its gorgeous design. The device handles everything with ease, offering a lag-free and fluid user experience whether you're multitasking, playing graphics-intensive games, or running demanding programs. The Honor 90 delivers top-notch performance capabilities because of its modern processor and plenty of RAM.
Capabilities of cameras:
The Honor 90's sophisticated camera technology elevates smartphone photography to a new level. It has an amazing 50MP front-facing camera, which is ideal for taking beautiful selfies with excellent detail and clarity. The gadget also includes a powerful 200MP primary camera with a large 1/1.4″ sensor, providing remarkable low-light performance. The Honor 90 also has a 12MP ultrawide module and a 2MP depth sensor, allowing users to experiment with different photography techniques and produce photos that seem professional.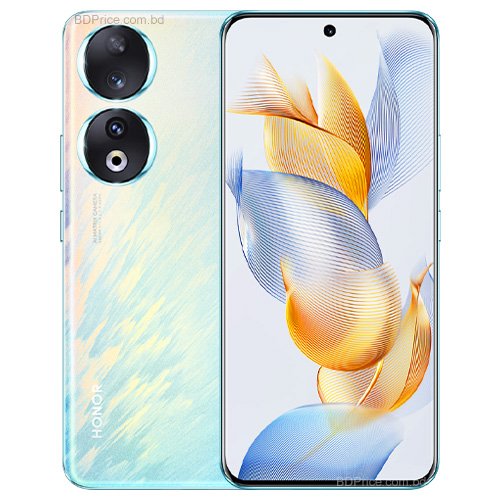 Life and Charging of Batteries:
The Honor 90's powerful 5,000 mAh battery assures that it will have enough juice to last throughout your busy day. You can count on the gadget to give all-day battery life regardless of whether you're streaming videos, surfing the web, or playing games. Additionally, the Honor 90's 66W rapid charging technology reduces downtime and quickly tops off the battery so you can resume using your phone right away.
Conclusion:
As a flagship smartphone, the Honor 90 combines amazing features with cutting-edge technology. The Honor 90 is destined to enchant smartphone aficionados all around the world with its gorgeous design, immersive display, potent performance, and amazing photography skills. This gadget provides simplicity and dependability with its long-lasting battery and quick charging. Keep an eye out for the formal launch event in July where all the information on pricing and availability will be disclosed.
Know More About Honor 90 . . .
Thank you so much for being with the BDPrice.com.bd family.
Our Facebook page BD Price.