News
Red Magic Gaming Tablet Unveiled Their First Tablet With SD 8+ Gen 1
A Powerful Gaming Tablet Designed Specifically For Gamers Called The Red Magic:
An eagerly awaited launch event for Nubia's gaming-specific subbrand was recently held in China when an exciting selection of devices specially designed for the gaming community was unveiled. The Red Magic 8S Pro series smartphones, the much anticipated Red Magic Gaming Tablet, and a variety of gaming accessories made especially for die-hard gamers were all on display during the event. We examine the technical details and characteristics that distinguish the Red Magic Gaming Tablet in this post.
Specs for The Red Magic Gaming Tablet:
The Red Magic Gaming Tablet has a stylish metal casing that makes it seem solid and expensive. Despite its sturdy construction, the tablet is lightweight and very portable at just 613g. It goes easily inside bags and luggage due to its thin 6.5mm thickness.
The tablet's 12.1-inch 2.5K LCD screen is one of its most notable features. Smooth images are delivered by its remarkable 144Hz high refresh rate, and quick and precise touch controls are ensured by the 240Hz touch sampling rate. With a maximum brightness of 600 nits, the screen maintains its brilliant color even in well-lit areas. With a contrast ratio of 1500:1 and support for 10-bit color depth, the 16:10 aspect ratio creates an immersive viewing experience that produces amazing graphics with vibrant, genuine colors.
The display also features UL low blue light eye protection certification. Protecting your eyes when using it for lengthy periods of time. Additionally, the tablet has a "screen too close reminder," which aids in ensuring that you keep a comfortable distance when using it.
The Snapdragon 8+ Gen 1 CPU, which provides great performance and efficiency, is what powers the Red Magic Gaming Tablet. It supports a 5G connection, making it possible to connect quickly and reliably for data-intensive applications like online gaming.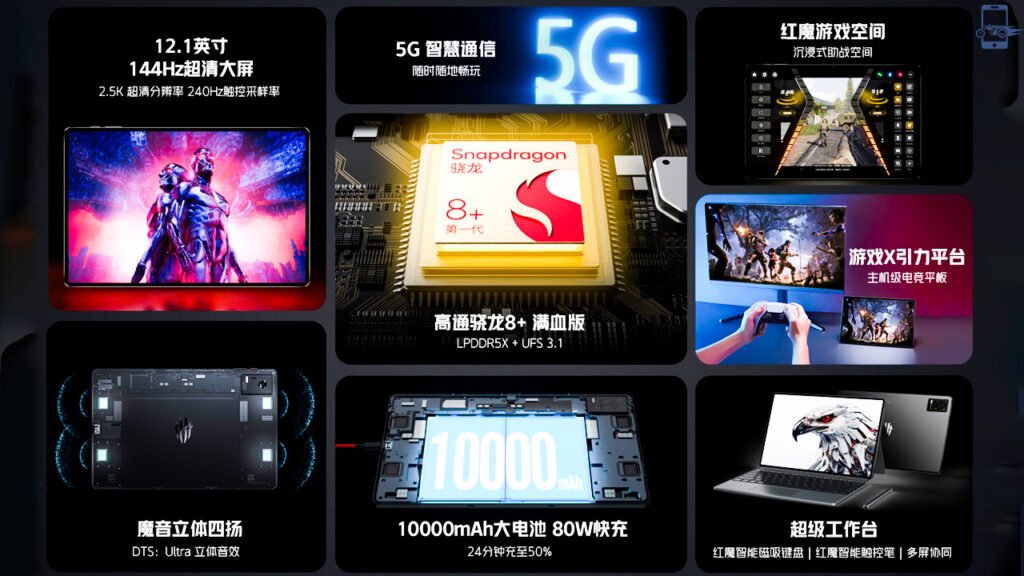 The tablet has a powerful 10000mAh battery, thus its battery life is also no slouch. It supports 80W flash charging technology and takes only 55 minutes to completely charge, minimizing downtime in between gaming sessions.
A device with a gaming focus:
With a Magic Gaming area already included, the Tablet was created with gamers in mind. The enhanced gaming experience and access to many gaming-specific features are both provided by this dedicated gaming environment. The tablet also supports peripherals, making it simple to connect and play both mobile and AAA games.
The tablet has gaming capabilities, but it also supports a pen and a magnetic keyboard, so it can be used for productivity. Due to its adaptability, users may easily switch between gaming and other duties. Making it a useful tool for both work and pleasure.
Conclusion:
As a powerful gaming gadget, the Red Magic Tablet stands out. It provides an immersive gaming experience without sacrificing mobility because of its elegant design, brilliant display, powerful CPU, and long-lasting battery. The Tablet offers the capabilities and tools required to advance your gaming experiences. Whether you're a casual player or a die-hard aficionado.
Thank you so much for being with the BDPrice.com.bd family.
Our Facebook page BD Price.