News
Oppo Reno 10 Pro+ Camera Have Been Released In Advance Of Its Debut In India
OPPO Announces the Launch of the Reno 10 Pro Series and Provides Details on the Camera Features:
Do you anticipate the newest smartphone launches with anticipation? Prepare yourself for some fantastic news! The highly awaited Reno 10 Pro series from OPPO, a well-known Chinese smartphone maker, will soon be released in India and other territories. Three outstanding smartphones are part of this new lineup: the Reno 10, Reno 10 Pro, and Reno 10 Pro+. Although OPPO has already made these phones available in China, the worldwide versions are anticipated to include some intriguing updates. We'll go into the OPPO Reno 10 Pro+'s camera specifications and features in this post, which are sure to enthrall photography fans.
Pushing the Boundaries of Smartphone Photography with the OPPO Reno 10 Pro+:
Recently, OPPO revealed the Reno 10 Pro+'s superior photography capabilities. The distinguishing quality that makes it stand out from the competitors is its telephoto periscope design. The phone has the highest megapixel telephoto camera on the market, a 64MP telephoto camera. You can anticipate superb image quality and amazing zoom capabilities from a 1/2-inch image sensor. The Reno 10 Pro+ boasts an astounding 120x hybrid zoom in addition to 3x optical zoom compatibility with optical image stabilization (OIS).
Periscope Lens Design Redefined:
The periscope camera module on the Reno 10 Pro+ boasts a stylish design that OPPO is proud of. It is an amazing 0.96mm slimmer than other gadgets. This accomplishment is significant since periscope lenses stacked on top of one another sometimes generate a significant camera hump. To provide a more streamlined and attractive appearance, OPPO's creative approach comprises tilting the sensor and the stacking lens.
Stunning Portrait Photography Using Telephoto Lens:
Along with displaying the Reno 10 Pro+'s remarkable capabilities, OPPO also presented some enthralling camera samples. The telephoto lens excels in closing the distance between the portrait subject and distant components in outdoor scenes. Users may take striking and artfully constructed portraits against stunning backgrounds like landmarks, structures, and mountains thanks to this special function.
A Flexible Three-Camera Setup: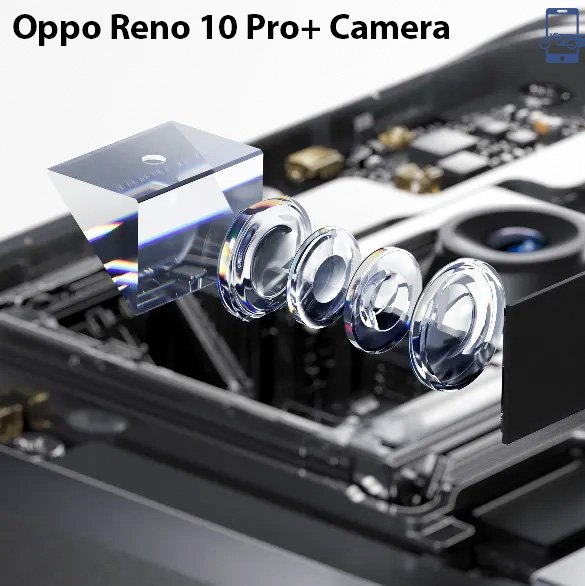 A triple camera configuration on the back of the Reno 10 Pro+ ensures versatility in shooting various scenario types. The 50MP Sony IMX890 sensor, which has a massive 1/1.56-inch sensor size, serves as the camera's main sensor, guaranteeing superb detail and clarity in every picture. Additionally, the ability to take breathtaking wide-angle photos thanks to an 8MP Sony IMX355 ultra-wide angle camera with a 1/4-inch sensor broadens the creative possibilities.
Selfie Excellence with 32MP Sensor and AF:
The Reno 10 Pro+ doesn't let down fans of selfies. It has a 32MP Sony IMX709 front-facing sensor with autofocus (AF). Selfies taken with this cutting-edge sensor will be clear and bright, letting you capture your favorite moments with ease.
The Reno 10 Pro's Camera Configuration:
While the Reno 10 Pro+ is getting all the attention, it's important to note that the Reno 10 Pro has an equally impressive camera configuration. The megapixel level of the telephoto lens on the Reno 10 Pro is the only variation between the excellent photographic experiences provided by both handsets. Sadly, OPPO has not yet made public this information. However, customers may anticipate fantastic results given OPPO's dedication to providing superb camera capabilities.
In conclusion, OPPO's forthcoming Reno 10 Pro series, especially its flagship model, the Reno 10 Pro+, is poised to make an impact in the smartphone market. This phone promises to raise smartphone photography to new levels with its ground-breaking camera specs and cutting-edge functionality. The OPPO Reno 10 Pro+ is ready to be an outstanding partner for every photography lover, whether you're snapping pictures of magnificent vistas or making gorgeous portraits.
Conclusion:
The Reno 10 Pro series from OPPO, the company's most recent product, has generated attention in the smartphone industry because of its outstanding photographic skills. With the greatest megapixel telephoto camera in the business and a periscope telephoto periscope design that transforms smartphone photography, the Reno 10 Pro+ commands attention. The Reno 10 Pro+ is sure to please those who seek top-notch photography skills from their smartphones with its amazing camera samples, thin design, and adaptable triple camera arrangement.
Know More About Oppo Reno10 pro+ . . .
Thank you so much for being with the BDPrice.com.bd family.
Our Facebook page BD Price.