News
iPhone 15 Rumor Spec Leak With Periscope Lens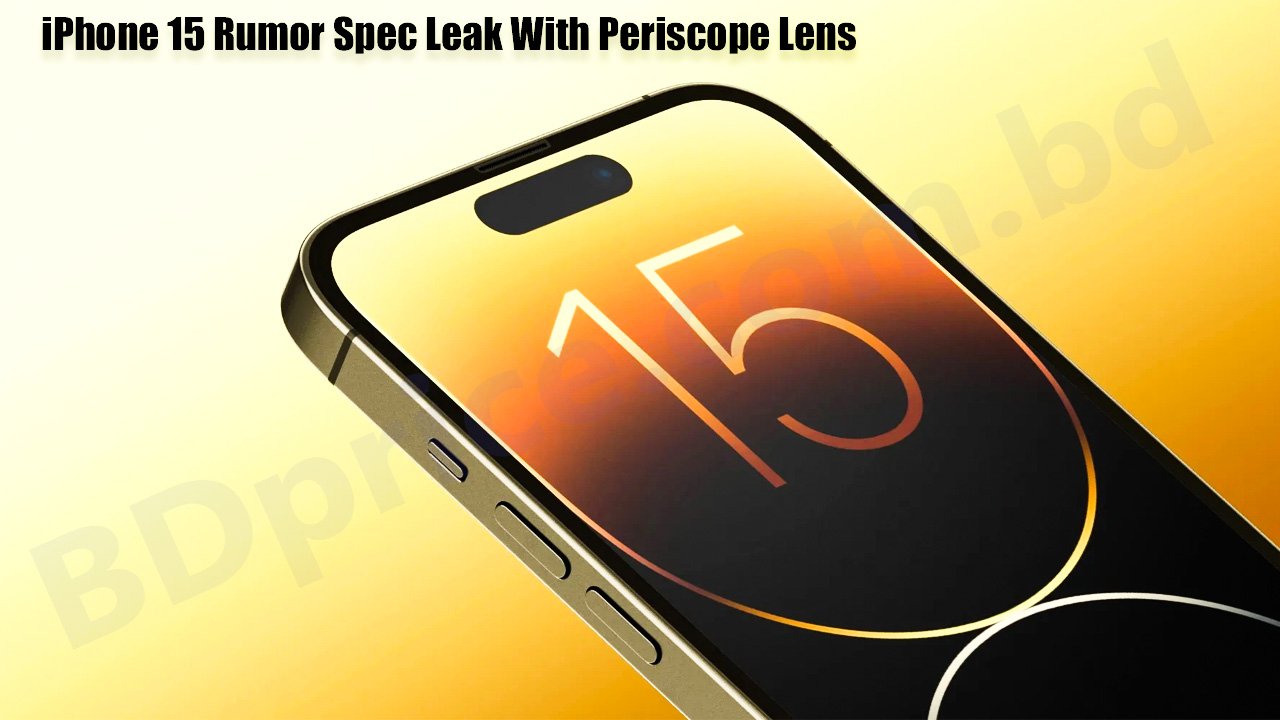 iPhone 15 Specs and Rumors Leak Online, Including a Periscope Lens
When it comes to technical advancement, Apple has a history of pushing the envelope, and the iPhone 15 Pro Max's alleged periscope lens technology is no exception. With optical zoom powers beyond what is now achievable, this revolutionary technology might completely change how we capture pictures with our smartphones. If accurate, this would represent a major improvement above the 3x optical zoom offered by the existing iPhone models.
In order to get a greater focal length without enlarging the lens, the periscope lens technique uses a prism to bend light before it reaches the camera sensor. Some cell phones have already included this technology, but Apple's version claims to further it.
Specification:
The device is also anticipated to benefit greatly from the speculated A17 processor, which was fabricated utilizing TSMC's 3nm technology. This chip might offer a 15% performance and power gain over the existing 5nm CPUs utilized in the iPhone 14 models, as well as 30% additional power savings thanks to enhanced power consumption efficiency and reduced heat generation. As a result, the iPhone 15 Pro Max may provide even quicker and more effective performance, making it a fantastic option for gamers and power users.
Exciting improvements include the expected 8GB RAM and up to 2TB of storage in the iPhone 15 Pro and Pro Max. A smartphone with more RAM can run multiple programs and processes simultaneously without stuttering or lagging. Users can save even more photographs, movies, and applications on their smartphones thanks to the up to 2TB of storage available, all without having to worry about running out of room.
All of these rumors are, of course, just rumors. Until Apple makes a formal announcement, we won't be able to say for sure what the iPhone 15 range will include. However, if these reports are accurate, the iPhone 15 Pro Max would be one of the most intriguing smartphones to enter the market this year, with a number of fresh features and enhancements that might set it apart from the competition.
In conclusion, the iPhone 15 range is looking forward to the anticipated periscope lens technology in the Pro Max edition, as well as the expected A17 CPU, 8GB RAM, and up to 2TB of storage. If these speculations are accurate, the iPhone 15 Pro Max might continue Apple's history as a pioneer in smartphone technology. What Apple has in store for us later this fall is something we eagerly anticipate.
Know More About Apple iPhone 15 . . .
Thank you so much for being with the BDPrice.com.bd family.
Our Facebook page BD Price.