News
Honor Pad X9 Launch With An 11.5-inch, 120hz Screen, Six Speakers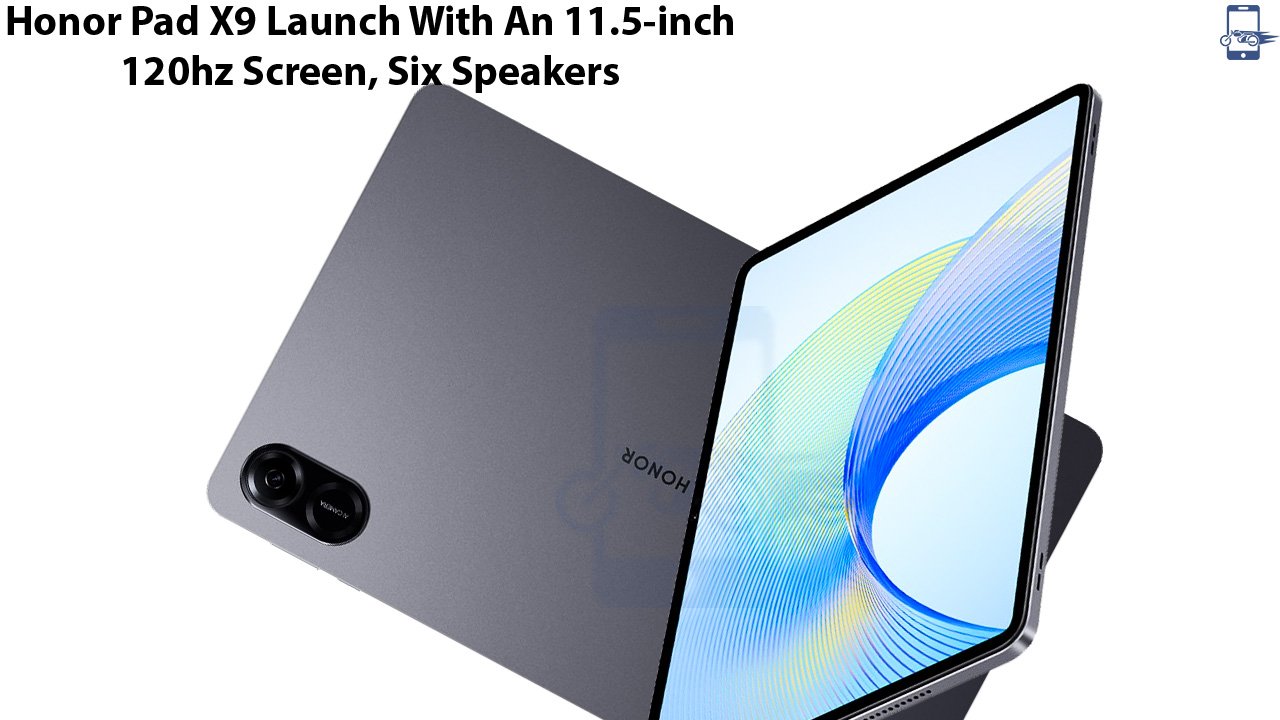 The Pad X9 from Honor is a Svelte and Powerful Multimedia Tablet:
Honor just lately announced the Pad X8 Pro, their newest tablet, in China. Unexpectedly, the corporation has moved quickly to provide an identical tablet to Europe, but under a different brand. Introducing the Honor Pad X9, a svelte and loaded with features gadget made to satisfy your entertainment requirements.
A Visual Delight:
An amazing 11.5-inch IPS LCD screen with a resolution of 2,000 x 1,200 pixels is featured on the Pad X9. The colors are true and brilliant thanks to the huge screen's 100% RGB coverage, which creates a stimulating visual experience. The tablet's 120Hz refresh rate also provides a buttery-smooth user experience, providing smooth transitions and interactions.
Experience with Immersive Audio:
The Honor Pad X9 performs superbly in terms of audio. This tablet offers a completely immersive 360° audio experience thanks to its total of six speakers, two of which are located at the bottom and two on each side. The bottom-firing speakers are intended to disperse sound across the space, giving the impression of surround sound. For your multimedia enjoyment, you can anticipate rich and high-quality audio thanks to the ground-breaking Honor Histen technology.
Power and effectiveness:
The Honor Pad X9 has a powerful engine. It is equipped with the Snapdragon 685 CPU, which guarantees slick and quick performance across a range of duties and apps. This tablet offers a user-friendly and straightforward interface thanks to MagicOS 7.1, which is based on the most recent version of Android (13).
Family-friendly characteristics
Honor is aware of the need of providing kids with a secure and supervised environment. Parents are now able to establish restrictions on material access and screen time with the Honor Pad X9 thanks to the integration of Google Kids Space and the Family Link app. These features guarantee that kids may explore and learn while giving parents peace of mind.
Continuous Connectivity
The Honor Pad X9 is made to function perfectly with other Honor gadgets. You can simply transfer files and conveniently exchange alerts between devices with Honor Connect. Your entire user experience will be improved thanks to this integration, which will also make using your devices easier.
Simple Construction and Portability:
The device is an eye-catching piece of design with its thin aluminum shell that is only 6.9mm thick. With a weight of only 495g, it is small and light enough to bring with you wherever you go. The Pad X9 is the ideal travel companion, as well as a great choice for leisurely home use.
Cost and accessibility:
Currently, the Honor Pad X9 is only offered in a single configuration that includes Wi-Fi, 4GB of RAM, and 128GB of storage. This tablet's price of €250/£180 represents exceptional value given its amazing features and capabilities.
The Honor Pad X9 is already available if you live in Germany. The tablet will be sold through the HiHonor online store starting on July 19 for clients in the UK. For orders made before the end of July, the UK shop is giving you a free set of Honor Earbuds X5 (a £40 value). The tablet will also be sold by other well-known merchants including Amazon, Argos, Very, and Currys.
The earlier Honor Pad X8 is still available for those seeking a more affordable choice. This tablet, which costs €180/£140, provides comparable capabilities in a 4/64GB version. The Honor Pad X8, on the other hand, features a smaller 10.1-inch display with a 60Hz refresh rate and a lesser resolution of 1,920 x 1,200 pixels, which should be taken into consideration. A MediaTek MT8786 processor powers it and it also has dual speakers. In addition, the battery's 5,100mAh capacity is a little less.
Conclusion:
A stunning multimedia tablet with a stylish appearance, strong performance, and immersive audio-visual features is the Honor Pad X9. It is a great option for both entertainment and productivity because of its huge display, powerful audio system, and family-friendly features. Tech fans will find it even more tempting due to the competitive cost and availability through different shops. With the Honor Pad X9, embrace the direction tablets are headed.
Know More About Honor Pad X9 . . .
Thank you so much for being with the BDPrice.com.bd family.
Our Facebook page BD Price.