News
Xiaomi Redmi A2 Series Launch in India Soon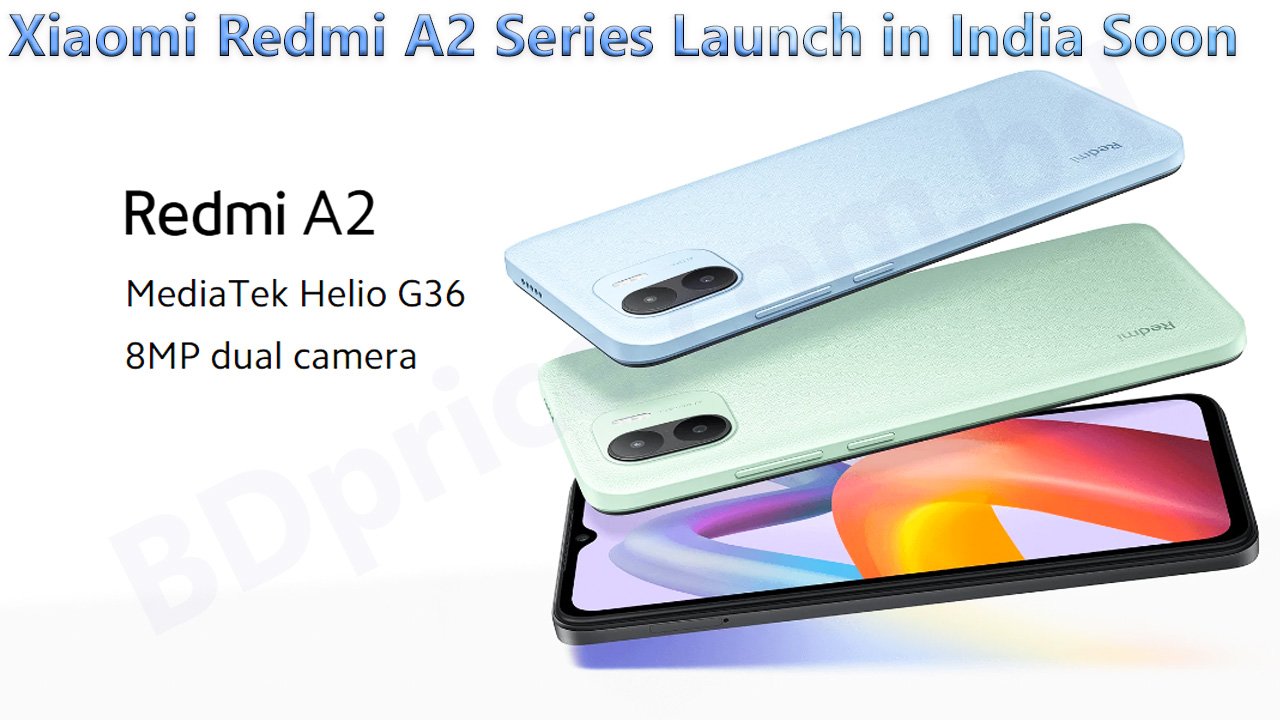 Launch of the Xiaomi Redmi A2 Series in India with the MediaTek Helio G36:
The Redmi A2 series, which includes the Redmi A2 and A2+ models, will formally launch in the Indian market, according to Xiaomi. Xiaomi is currently offering these feature-rich smartphones to Indian consumers after its global launch in March 2023. With its MediaTek Helio G36 CPU, large display, outstanding camera system, and robust battery, the Redmi A2 series is poised to wow. Let's examine these gadgets' capabilities in more detail. Xiaomi Redmi A2 Series Launch in India Soon.
HD+ Display with MediaTek Helio G36 SoC:
The MediaTek Helio G36 system-on-a-chip (SoC) powers the Redmi A2 line of smartphones. Smooth performance and effective multitasking are guaranteed by this strong chipset. The experience users get when surfing, playing games, or utilizing several programs should be smooth. The 6.52-inch HD+ LCD display found in the Redmi A2 and A2+ offers vivid colors and clear pictures for an engaging viewing experience.
Beautiful camera setup and a durable battery:
With the Redmi A2 series, breathtaking images and videos can be captured with ease. You'll discover a 5-megapixel selfie camera on the front, which enables you to snap detailed and crisp self-portraits. An 8-megapixel main camera and a second depth sensor make up the back camera arrangement. This dual-camera setup guarantees outstanding depth perception and makes bokeh effects possible for images that appear professional. The Redmi A2 series may be used to take pictures of landscapes, people, or objects up close.
The Redmi A2 and A2+ are also powered by a strong 5,000mAh battery. With its high-capacity battery, you may use it for longer periods of time without having to recharge it frequently. The devices' long-lasting batteries enable users to connect uninterruptedly throughout the day even though they support conventional 10W charging. Xiaomi Redmi A2 Series Launch in India Soon.
Features and Android Go 13:
The Redmi A2 series devices provide improved convenience and security. A fingerprint reader located on the Redmi A2+'s back allows for rapid and secure device access. Your personal information is safeguarded and you may easily unlock your phone thanks to this function.
Android 13 Go Edition is the operating system for the Redmi A2 and A2+. Even on devices with minimal hardware requirements, this streamlined operating system is created to provide a fluid and effective user experience. You may benefit from quicker app launches, improved memory management, and improved security features with Android 13 Go Edition.
Color choices and fashionable design:
The Redmi A2 series comes in a variety of appealing color options to accommodate various tastes. You may show your particular style by selecting from Light Blue, Light Green, or Black variations. These smartphones also have an elegant and sophisticated look thanks to their sleek design and leather-like back panel.
Offers and Sales Channels:
For its customers, Xiaomi is aware of how important convenience and accessibility are. The Redmi A2 series will thus be accessible via a variety of sources. These smartphones are available for purchase from offline retailers as well as the well-known online shop Amazon. The Redmi A2 series will also be available on Xiaomi's official website, making it simple for you to research and make your purchase from the comfort of your home. Xiaomi Redmi A2 Series Launch in India Soon.
Since the Redmi A2 series debut in the Indian market has been officially confirmed, Xiaomi has continued to provide its clients with cutting-edge, feature-rich smartphones. The Redmi A2 series is an appealing option for smartphone aficionados because of the MediaTek Helio G36 CPU, huge HD+ display, outstanding camera system, long-lasting battery, and other noteworthy features. The Redmi A2 series offers plenty to offer whether you're a multitasker, a photographer, or just seeking a dependable and fashionable smartphone.
Know More About Xiaomi Redmi A2 and Redmi A2+ . . .
Thank you so much for being with the BDPrice.com.bd family.
Our Facebook page BD Price.