News
iPhone 16 Pro and 16 Pro Max Will Have Large Screens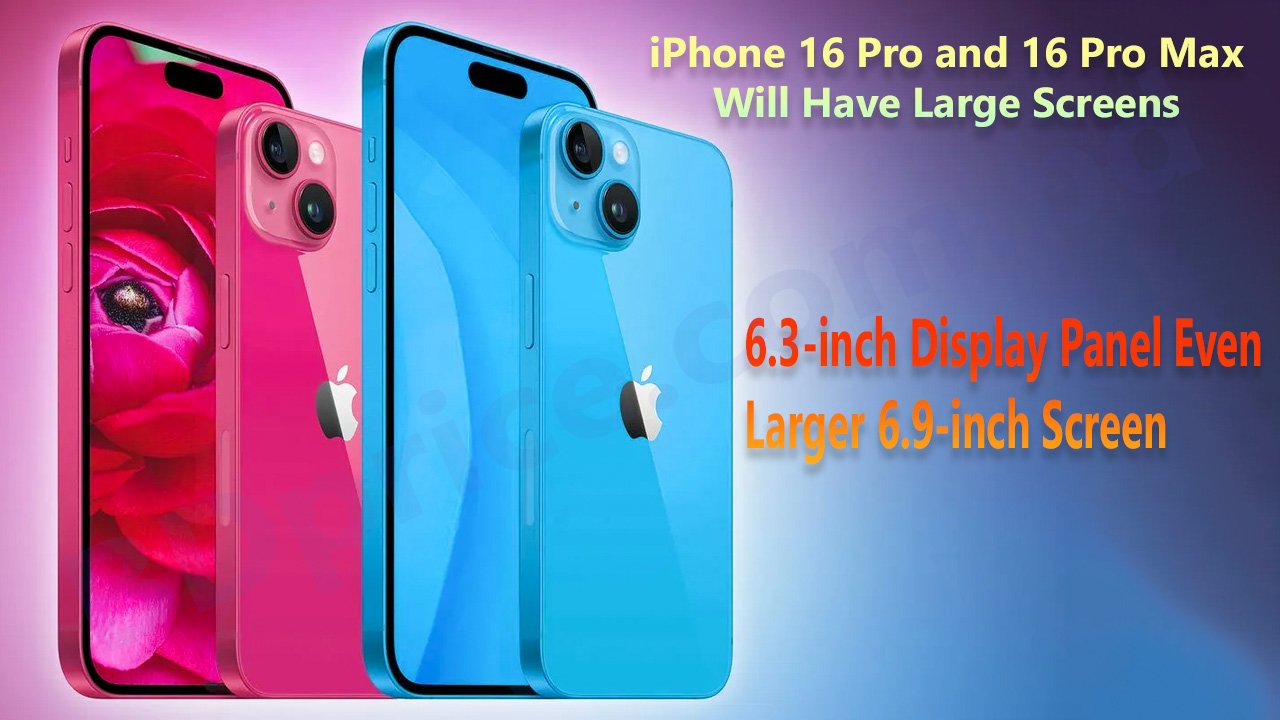 Larger Display Sizes for the iPhone 16 Will Be Released by Apple:
Even though Apple is planning to introduce its iPhone 15 range later this year, rumors about the iPhone 16 series have already begun to circulate online. In the most recent development, iPhone 16 Pro and 16 Pro Max Will Have Large Screens. Display Supply Chain Consultants expert Ross Young disclosed that the premium iPhone 16 series devices would have bigger screens.
iPhone 16 Series:
The following generation of Apple's flagship smartphone lineup is anticipated to be the iPhone 16 series. The iPhone 16, iPhone 16 Plus, iPhone 16 Pro, iPhone 16 Pro Max, and iPhone 16 Ultra are the five versions that are anticipated to be part of the series.
Display Dimensions:
The iPhone 16 Pro will have a 6.3-inch screen, while the iPhone 16 Pro Max will have a 6.9-inch screen, according to Ross Young. He stated that the screen sizes are now rounded off and that later this month they would be disclosed to be exact measurements with two decimals.
If this information is accurate, it would be the first time Apple used such huge display sizes for their iPhone models. Nevertheless, it is consistent with the tendency for display sizes to grow with practically every new smartphone generation.
Ross Young's forecasts as an analyst:
In the IT sector, Ross Young is a well-known analyst who has a history of correctly forecasting display sizes and other specifications of incoming smartphones. His forecasts on the iPhone 16 series' display sizes have received extensive press coverage and are keenly anticipated by Apple fans and other tech enthusiasts.
Increased display sizes' effects:
There are benefits and drawbacks to larger display sizes. On the one hand, it offers a better viewing experience and enables the presentation of more information on the screen. However, it can also make the phone heavier and more difficult to hold. It will be interesting to watch how the higher display sizes affect the iPhone 16 series when compared to earlier iterations. iPhone 16 Pro and 16 Pro Max Will Have Large Screens.
The iPhone 16 series is anticipated to have higher display sizes; the iPhone 16 Pro and Pro Max are said to have screens that are 6.3 inches and 6.9 inches, respectively. Although this differs from earlier versions, it follows the general trend of larger smartphone displays. These projections were made by Display Supply Chain Consultants analyst Ross Young, and it is anticipated that this month's end would provide confirmation of the real sizes. It will be interesting to see how these bigger display sizes, together with the predicted further camera upgrades, will affect the market.
Know More About iPhone 16 Pro Max . . .
Thank you so much for being with the BDPrice.com.bd family.
Our Facebook page BD Price.