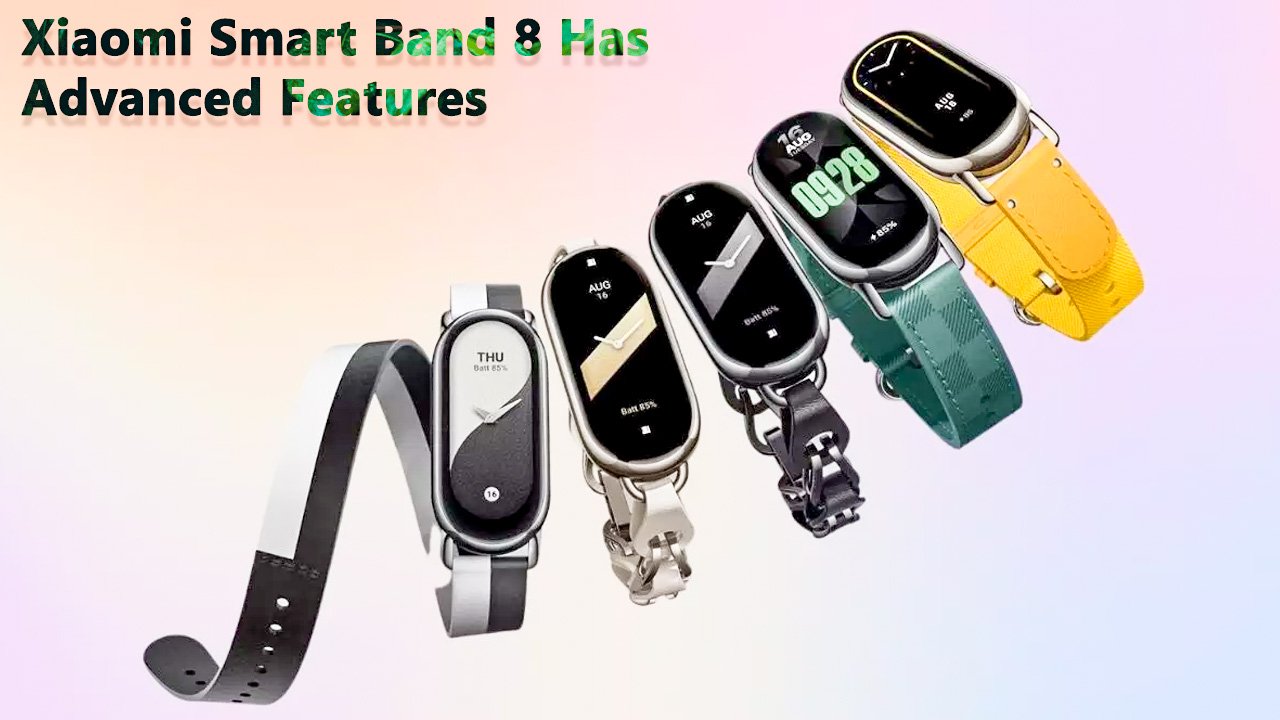 Xiaomi Smart Band 8 Has Advanced Features Such As A Necklace:
Xiaomi, a Chinese electronics manufacturer, is renowned for producing affordable, high-quality smartwatches and fitness monitors. The Xiaomi Smart Band 8 is one of the company's most anticipated products; here are the most recent features and updated information.
Features:
The Xiaomi Smart Band 8 is anticipated to include a number of new features that distinguish it from its predecessors. According to leaks and speculations, the device will have a larger, high-resolution display that will make it simpler to read notifications and monitor fitness data.
The smart band is also anticipated to include a variety of sensors that will allow users to accurately track their fitness activities. It is anticipated that these sensors will consist of an accelerometer, a heart rate sensor, and a blood oxygen sensor.
In addition to fitness monitoring, it is anticipated that the Xiaomi Smart Band 8 will include a variety of intelligent features. It is rumored that the device will support NFC, allowing users to make payments with their smart band. It is also anticipated that the device will support voice assistants, making it simpler for users to control their devices with voice commands.
The following is the anticipated features of the Xiaomi Smart Band 8:
Display:
Possibly a 1.62-inch or larger AMOLED display with a higher resolution of 490 x 192 pixels than the previous model. Maximum brightness of 500 nits.
Touchscreen interface Sensors:
Accelerometer sensor for monitoring movement and steps
Heart rate sensor for monitoring heart rate throughout the day and during exercise.
Blood oxygen sensor for monitoring blood oxygen levels
Sensor for sleep tracking and monitoring sleep quality
Connectivity:
Bluetooth 5.2 connectivity for smartphone synchronization
NFC support for contactless transactions and additional features
Wi-Fi connectivity for firmware upgrades and data synchronization
Battery:
Possibly 180 mAh or more compared to the previous model's capacity.
Battery life is estimated to be 14 days or longer, depending on usage.
Extra Features:
Waterproof construction for swimming and other water activities
Support for voice assistance for hands-free operation
Compatibility with both iOS and Android mobile devices
Music playback and management
Note that these specifications are not official and are subject to change prior to the official launch of the Xiaomi Smart Band 8. However, these rumored specifications suggest that the device will be a significant upgrade over its predecessor, the Xiaomi Smart Band 6, and will offer a variety of sophisticated fitness monitoring and smartwatch features.
Recent News:
As of April 2023, Xiaomi has not officially announced the Smart Band 8's release date or specifications. However, sources and rumors indicate that the product may be published on the 18th of April 2023.
Additionally, it is anticipated that the Smart Band 8 will include a number of software enhancements that enhance the overall user experience. Xiaomi is renowned for releasing frequent updates for its devices that fix flaws, enhance performance, and add new features.
The Smart Band 8 is expected to feature a longer battery life as one of its most significant enhancements. The device is rumored to feature a larger battery that will allow users to operate the device for extended periods of time without recharging.
Conclusion:
The Xiaomi Smart Band 8 is shaping up to be an impressive addition to the market for smart bands. With its sophisticated sensors, intelligent features, and high-resolution display, the Smart Band 8 is certain to be a success among fitness enthusiasts and smartwatch enthusiasts. While we await the official release date and specifications, Xiaomi aficionados can anticipate regular updates that will enhance the overall user experience.
Thank you so much for being with the BDPrice.com.bd family.
Our Facebook page BD Price.