News
Realme Narzo N53 Set To Launch in India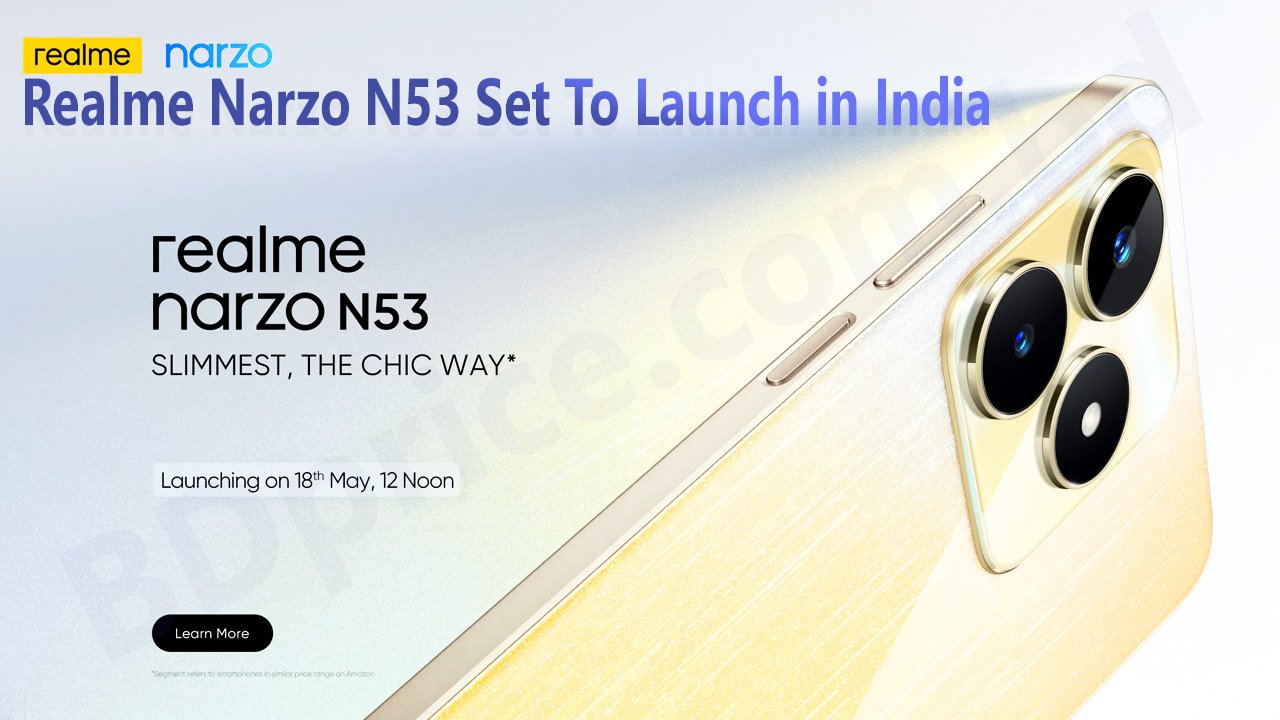 Realme Set to Launch Realme Narzo N53 in India, Promising a Budget-friendly Device with Impressive Features
New Delhi, May 11, 2023 – After an impressive debut of the Realme 11 series in China, the popular smartphone brand is now turning its attention to the Indian market. Realme is set to introduce an affordable yet feature-packed smartphone in the budget range. With the upcoming launch of the Realme Narzo N53. The brand's official website has confirmed that the Narzo N53 will be unveiled on May 18th, at 12 noon in India. Realme Narzo N53 Set To Launch in India.
Following the successful release of the Narzo N55 last month, which received positive reviews (see Realme N55 review). The Realme Narzo N53 is poised to build upon its predecessor's success. The smartphone will be available for purchase through Amazon and Realme's official e-store, as indicated by the device's teaser page on both platforms.
One of the most intriguing aspects of the Narzo N53 is its design,. Which bears a striking resemblance to the rumored iPhone 14 Pro. Realme has released teasers showcasing the device's sleek and stylish appearance, hinting at the possibility of the inclusion of an Apple Dynamic Island-like notification bubble function. This exciting feature was also present in the Narzo N55, piquing the curiosity of tech enthusiasts eager to see if Realme will continue to adopt such elements and potentially create an iPhone 14 Pro clone.
Specification:
Realme has further claimed that the Narzo N53 will be the slimmest phone ever released by the brand. This implies a width of approximately 7mm or even less, emphasizing Realme's commitment to delivering slim and elegant devices to its customers. Realme Narzo N53 Set To Launch in India. A recent leak suggests that the smartphone will boast up to 16GB of Dynamic RAM, ensuring seamless multitasking capabilities, and will support 33W fast charging for quick and convenient power replenishment.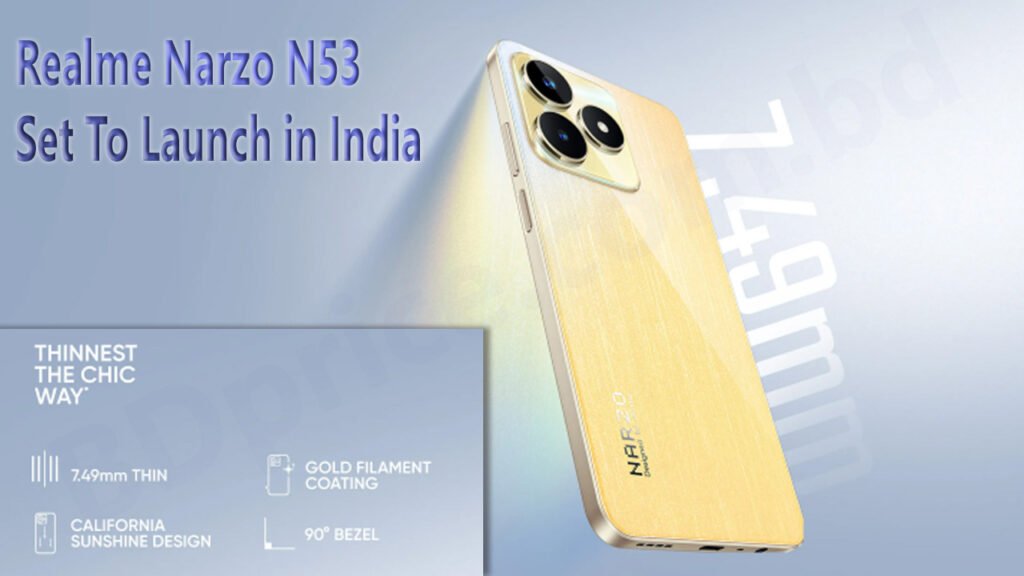 In terms of connectivity, the Realme Narzo N53 is expected to feature 5G support. Catering to the growing demand for faster and more reliable network speeds. The device will be available in two color variants: Feather Black and Feather Gold. Rumors suggest that the Feather Gold option may be marketed as the California Sunshine Design, as hinted at in an official teaser. As the launch date approaches, more details are anticipated to surface. So enthusiasts are advised to stay tuned for further updates.
Realme continues to solidify its position as a key player in the Indian smartphone market. By consistently delivering affordable devices packed with impressive features. The Realme Narzo N53 is poised to further strengthen the brand's portfolio. And offer Indian consumers an attractive choice in the budget segment. With its sleek design, powerful performance. And promising specifications, the Narzo N53 is expected to captivate tech enthusiasts and budget-conscious consumers alike.
About Realme:
Realme is a leading smartphone brand that was established in 2018. It quickly gained popularity due to its commitment to offering feature-rich devices at competitive prices. Realme Narzo N53 Set To Launch in India. With a focus on the youth demographic, Realme has rapidly expanded its presence across various global markets, including India, China, Europe, and Southeast Asia. The brand continues to innovate and provide cutting-edge technology, making it a formidable competitor in the smartphone industry. For more information, visit Realme's official website.
Know More About Realme N53 . . .
Thank you so much for being with the BDPrice.com.bd family.
Our Facebook page BD Price.