News
Redmi Pad 2 rumored specifications have been leaked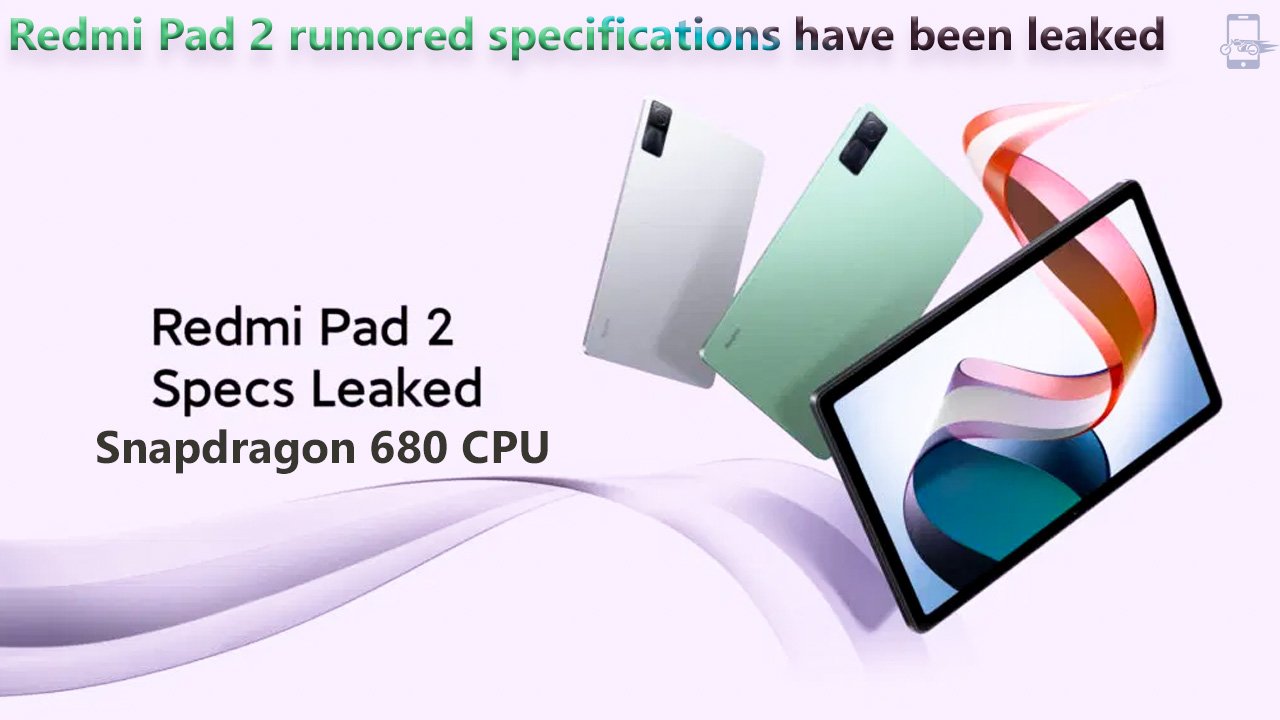 Introducing Xiaomi's New Tablet, the Redmi Pad 2
Redmi Pad 2 rumored specifications have been leaked- Recent rumors claim that Redmi, a division of Xiaomi, is now working on building a new tablet, and this has the tech sector buzzing. The tablet first appeared in the EEC certification database under model number 23073RPBFG, which brings us to this amazing news. The name and details of the tablet were not disclosed in the listing itself, however, it is commonly believed that this future product would be the much-awaited Redmi Pad 2.
Redmi Pad 2 Information Revealed via Leak
Famous tipper Kacper Skrzypek has used Twitter to reveal unique information on the Redmi Pad 2 that has been leaked. The Snapdragon 680 CPU is anticipated to power this new tablet, which marks a break from the Helio G99 SOC found in the Redmi Pad, according to Skrzypek.
Redmi Pad 2: Potential Downgrade or Upgrade?
Questions regarding possible performance changes from the Redmi Pad 2's predecessor are raised by the adoption of the Snapdragon 680 processor. AnTuTu benchmark results showed that the Helio G99 SOC outperformed the Snapdragon 680 by about 35% in terms of GPU performance. Customers could ask if the Redmi Pad 2 represents a potential performance reduction given this change. It's crucial to remember that performance isn't the only thing to take into account.
Pricing Policy and Market Placement
The Redmi Pad's performance trade-off needs to be justified by the tablet's price strategy when compared to upgrading from the previous model. The price of the Redmi Pad 2 will be a key element in deciding if it's worthwhile to upgrade since the possible performance drop might not be a big deal for certain customers. It would be interesting to watch how Redmi positions and prices this tablet in the market while balancing cost and performance. Redmi Pad 2 rumored specifications have been leaked.
Redmi Pad 2 Display Specifications
According to rumors, the 10.95-inch Redmi Pad 2 would have an LCD display with a 1200×1920 pixel resolution. The visual experience is anticipated to be improved by this large display, especially given that it may sustain a smooth 90Hz refresh rate. When utilizing the Redmi Pad 2 for various applications, including gaming and video consumption, users can anticipate a more smooth and more immersive display.
Capabilities of cameras
According to rumors, the Redmi Pad 2 would include an 8-megapixel main camera on the back. The 8-megapixel camera should nonetheless provide enough imaging capabilities for taking photographs and films even if it may not be at the forefront of tablet photography. A 5-megapixel front camera is believed to be there for selfies and video chats, ensuring users can quickly connect and converse with others.
Experience with Software
It is speculated that the Redmi Pad 2 would ship with the Android 13 operating system preinstalled. This tablet offers a fluid and feature-rich software experience when combined with Xiaomi's user-friendly MIUI 14 user interface. With further improvements and unique features offered by MIUI 14, users can anticipate a familiar Android experience that further improves the tablet's usage.
Conclusion
Redmi Pad 2 rumored specifications have been leaked- With the Redmi Pad 2, Xiaomi's Redmi brand hopes to provide customers with an improved tablet experience. The total value offer will rely on Redmi's pricing strategy, even though the switch to the Snapdragon 680 processor may signal a potential decline in performance compared to its predecessor. The tablet's attractiveness is further influenced by its display characteristics, camera capabilities, and software experience. Enthusiasts and potential customers anxiously anticipate the Redmi Pad 2's formal introduction as more information becomes available.
Thank you so much for being with the BDPrice.com.bd family.
Our Facebook page BD Price.